BITSY'S PUPPY PAGE
BORN: 11/24/17
READY FOR HOMES: 1/19/18
BITSY AND CAESAR HAVE PRESENTED THEIR BEAUTIFUL PUPPIES!!
THERE ARE 2 MALES AND 7 FEMALES IN THIS LITTER!! (THERE ARE 5 PUPS AVAILABLE)
WE ESTIMATE THESE BABIES WILL BE 16 TO 20 INCHES AT THE SHOULDER AND 25 TO 35 POUNDS AT MATURITY MINI/SM MEDIUM
FILL OUT A PUPPY APPLICATION, AND RESERVE YOUR PUP TODAY!
| | |
| --- | --- |
| 30LB | 26LB |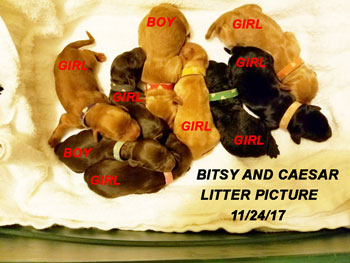 Chocolate, Red/Red Apricot, and Black Puppies
$2200.00
CHOOSING OF PUPPIES IS AT FIVE WEEKS
INCLUDING BREEDER RESERVE DECISIONS
BREEDER ALWAYS RESERVES THE RIGHT TO CHOOSE A PUPPY FROM EACH LITTER 1ST IF A BREEDER QUALITY IS PRESENT
| | |
| --- | --- |
| 1ST PICK -- | BREEDER RESERVE |
| 2ND PICK -- PURPLE RIBBON "KOKKINO" | CUSULOS FAMILY |
| 3RD PICK -- PINK RIBBON GIRL | ANCHIA FAMILY |
| 4TH PICK -- SILVER RIBBON GIRL | HUEBNER FAMILY |
| 5TH PICK -- | |
| 6TH PICK -- | |
| 7TH PICK -- | |
| 8TH PICK -- | |
| 9TH PICK -- | |
AVAILABLE

Blue Ribbon Boy

8.1oz

Chocolate Phantom

AVAILABLE

Orange Ribbon Girl

9.1oz

Red Apricot

AVAILABLE

Peach Ribbon Girl

9.4oz

Black

AVAILABLE

Red Ribbon Boy

10.5oz

Red Apricot

AVAILABLE

Yellow Ribbon Girl

8.5oz

Red Apricot

AVAILABLE

Green Ribbon Girl

7.9oz

Black

YAY!! I'M ADOPTED!!

Silver Ribbon Girl

8.0

Chocolate

YAY!! I'M ADOPTED!!

Pink Ribbon Girl

7.8oz

Chocolate

YAY! I'M ADOPTED!!

"KOKKINO"

Purple Ribbon Girl

8.8oz

Red
Available Puppies | Older Puppies | Puppy Application
Pricing | Dams | Studs | Training
Planned Litters | Testimonials | Breeders For Sale
Retired Breeding Dogs | Guardian Home Dogs