CANDACE'S PUPPY PAGE
BORN: 11/26/17
THERE IS 1 FEMALE AVAILABLE IN THIS LITTER
READY FOR HOMES: 1/21/18
CANDACE AND SAMUEL HAVE PRESENTED THEIR BEAUTIFUL PUPPIES!!
THERE ARE 5 MALES AND 4 FEMALES IN THIS LITTER (THERE IS 1 FEMALE AVAILABLE!)
WE ESTIMATE THESE BABIES WILL BE 18 TO 20 INCHES AT THE SHOULDER AND 30 TO 45 POUNDS AT MATURITY MEDIUM SIZE
FILL OUT A PUPPY APPLICATION, AND RESERVE YOUR PUP TODAY!
| | |
| --- | --- |
| 33LB | 44LB |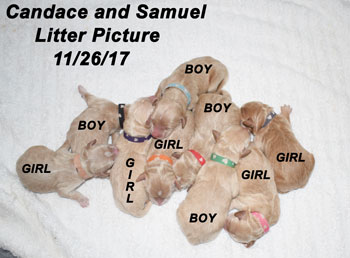 CREME/APRICOT CREME PUPPIES ALL w/WHITE MARKINGS
$2200.00
CHOOSING OF PUPPIES IS AT FIVE WEEKS
INCLUDING BREEDER RESERVE DECISIONS
BREEDER ALWAYS RESERVES THE RIGHT TO CHOOSE A PUPPY FROM EACH LITTER 1ST IF A BREEDER QUALITY IS PRESENT
| | |
| --- | --- |
| 1ST PICK -- Black Ribbon Boy | BREEDER RESERVE |
| 2ND PICK -- Green Ribbon Boy | COLLINS FAMILY |
| 3RD PICK-- Orange Ribbon Boy | POTTER FAMILY |
| 4TH PICK -- Blue Ribbon Boy | FROYD FAMILY |
| 5TH PICK -- Red Ribbon Boy | KRODEL FAMILY |
| 6TH PICK -- Purple Ribbon Girl | ISGREEN FAMILY |
| 7TH PICK -- Pink Ribbon Girl | PAVLAKOVICH FAMILY |
| 8TH PICK -- Peach Ribbon Girl | COLLIER FAMILY |
| 9TH PICK -- Silver Ribbon Girl | AVAILABLE FOR ADOPTION |
AVAILABLE!!

SILVER RIBBON GIRL

Birth Weight: 11.5oz

Current Weight: 3lb 6oz

YAY!! I'M ADOPTED!!

PEACH RIBBON GIRL

Birth Weight: 8.9oz

Current Weight: 3lb 15oz

YAY!! I'M ADOPTED!!

PINK RIBBON GIRL

Birth Weight: 10.6oz

Current Weight: 5lb 1oz

YAY! I'M ADOPTED!!

PURPLE RIBBON GIRL

Birth Weight: 10.8oz

Current Weight: 3lb 15oz

BREEDER RESERVE

BLACK RIBBON BOY

Birth Weight: 10.2oz

Current Weight: 3lb 9oz

YAY! I'M ADOPTED!!

ORANGE RIBBON BOY

Birth Weight: 11.2oz

Current Weight: 5lb 13oz

YAY! I'M ADOPTED!!

RED RIBBON BOY

Birth Weight: 12.2oz

Current Weight: 5lb 13oz

YAY! I'M ADOPTED!!

BLUE RIBBON BOY

Birth Weight: 11.1oz

Current Weight: 5lb 15oz

YAY! I'M ADOPTED!!

GREEN RIBBON BOY

Birth Weight: 11.3oz

Current Weight: 6lb 4oz
Available Puppies | Older Puppies | Puppy Application
Pricing | Dams | Studs | Training
Planned Litters | Testimonials | Breeders For Sale
Retired Breeding Dogs | Guardian Home Dogs