Dear Sherri and Roger,
Pat and I wanted to give you an up-date on Tuki and a few new pictures. I'm certain you will agree she is absolutely adorable. Everyone comments on her cuteness and playful spirit. She has a great disposition, is a very quick learner and has boundless energy. Already she has become a fetching machine and is enjoying being part of the Kong family. Some of her puppy Kong favorites are the Tiger Kong Braidz, Air Dog Jack and the Wubbas. She sleeps with a large Snugga Wubba. You could say she is quite "The Lucky Dog" to have so many fun toys.
It has been almost two years since we lost our sixteen year old Trixie. Grieving the loss, we began enjoying our grand "Doodle" dogs, Rosie and Shiloh. Over the last 35 years we have adopted all of our dogs except one. However, after much thought and deliberation we decided we wanted to raise a Labradoodle puppy. This is when we contacted you at Adhonay Labradoodles. We sincerely appreciate how much time you took helping us the learn about Labradoodles and your advice in the process of choosing our medium chocolate girl, Tuki.
We are quickly remembering how much is involved in raising a puppy, but we don't regret our decision for a second. Tuki has brought new joy and fun to our family. We love her to pieces. Thanks again for everything.
Many blessing to you,
Joe Markham
Founder Co-Owner
Kong Company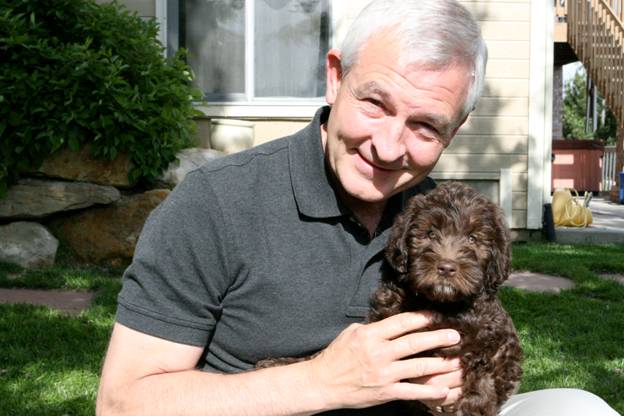 Above is a picture of Joe Markham, President/CEO of Kong Industries.
Pat and Joe's daughter and her family adopted our first born puppy
to Adhonay's Labradoodles, Rosie a standard blue F1B,
and we feel blessed they chose us for their next puppy, Tuki!
Available Puppies | Older Puppies | Puppy Application
Pricing | Dams | Studs | Training
Planned Litters | Testimonials | Breeders For Sale
Retired Breeding Dogs | Guardian Home Dogs