Testimonials
The background is a lovely sunset in Byers, CO from our front porch!
This little "Teddy Bear" girl is Sooky from Cookie and Barney's last litter with her really big Cadet pig's ear!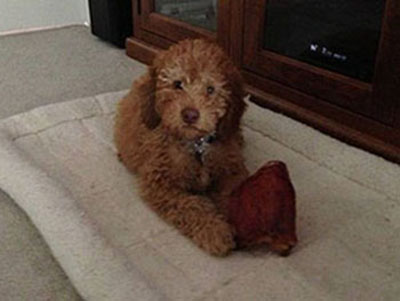 From: Don
Sent: Monday, April 22, 2013 11:58 AM
To: 'Sherri Halvorson'
Subject: Sooky
Hi Sherri –
Just wanted to say hi and let you know that Sooky is doing wonderful. At 3 months old, she weighs just about 14 lbs, she's fairly well house trained (last week she finally figured out that the cowbell magically causes us to open the door for her), and she is absolutely the most wonderful dog we could have hoped for!
I hope all is going well for you!
Don
This beautiful boy is out of Cookie and Barney's last litter and he is now 12 weeks old.
From: Shannon
Sent: Friday, April 19, 2013 1:55 PM
To: Sherri Halvorson
Hi Sherri, We named him Reilly and everything is going great! He is such a sweet little guy and is settling into his new home. The vet gave him a clean bill of health as well. Thank you for everything! We are loving our new little guy. Best, Shannon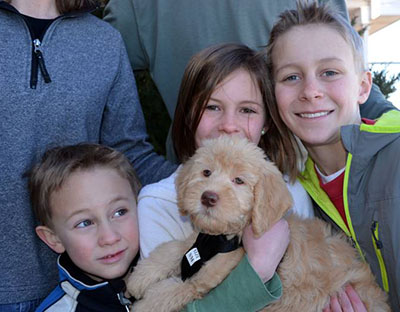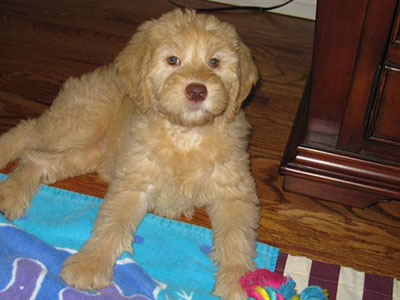 This is one of Delilah and Moose puppies from their Christmas litter. Her name is Maisy.
Hi Sherri, Thanks for the pictures. Maisy is doing great! She cried a little in the car but settled down quickly and slept most of the way with one stop to potty. She also slept in her kennel great last night after only a few minutes of whining. She is very playful and seems happy. We love her! Thanks so much.
Maisy at home:
From: jill
Sent: Saturday, March 16, 2013 11:00 AM
To: Sherri Halvorson
Subject: Re: Maisy update and boarding confirmation
Hi Sherri, Just wanted to give you a quick update on Maisy and confirm our boarding her with you. She is doing fantastic! Sleeps through the night in her crate, she is house broken and has never had an accident in her crate. When she needs to go potty she sits by the back door and waits for us to take her out. She already knows sit, down, and shake. She is a very quick learner. She is super friendly and playful but also loves to cuddle in our laps, perfect combination. We love her, she has been a great addition to our family!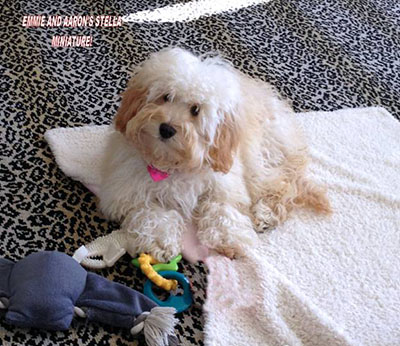 This is our little girl, Stella, from sweet Momma Emmie's last litter with our new young stud "Aaron" born 7/8/12!
We hope to have one more litter from Momma Emmie before she retires.
From: Kelly
Sent: Monday, February 11, 2013 12:22 PM
To: Sherri Halvorson
Subject: STELLA
Well hello Sherri,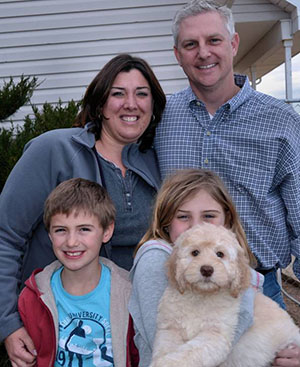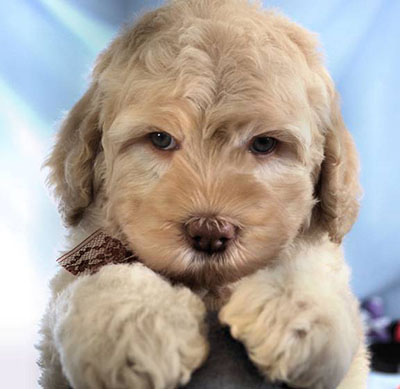 I've been wanting to write to you to tell you what you've done for me. Stella is the LOVE of my life!!! She brings me SO much JOY and HAPPINESS, words can't describe. She makes us laugh everyday! She is SO smart and playful. She's brought life to our home again!!! She is by my side 24/7. She loves us SO much. She is a feisty little girl with an Alfa girl personality. She's EVERYTHING we could have prayed for!!! Thank you, Thank you, Thank you!!
I hope this finds you and the rest of the family well.
Here are some pictures of my sweet baby!
BROMLEY IS FROM DELILAH AND MOOSE'S CURRENT LITTER BORN 12/8/12. HE WAS SPICE BOY - "CAPTAIN AMERICA" AND IS NOW "BROMLEY"!
From: Kim
Sent: Tuesday, February 05, 2013 12:42 PM
To: rhalvorson@netecin.net
Subject: Re: Pics of Bromley and your family
Thank you, Sherri! Bromley has settled in very well. He is eating, drinking, peeing, pooping, playing & sleeping - as I would expect from a puppy :-) He and Mugsy are getting along well, too.
Thank you for all of your help. We'll send you updated pictures as he grows!
-Kim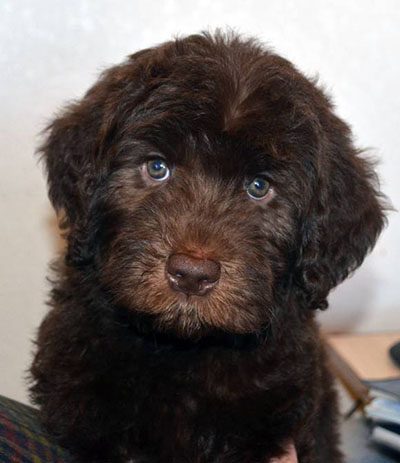 MAX IS FROM DELILAH AND MOOSE'S CURRENT LITTER BORN 12/8/12. HE WAS JUNGLE GREEN BOY!
From: Cathy
Sent: Monday, February 04, 2013 2:35 PM
To: Sherri Halvorson
Subject: Re: How's Max?
Sherri-
Max is doing well. He had his first vet visit today and passed with flying colors. He is doing better in the crate at night although Jim said the first night was rough (Cathy was out of town for the 1st night). Now calms down after 5 minutes and sleeps about 4 hours. He and the other dog get along and the cat and him are making friends as long as the cat stays high. He is a people dog and if someone is at home he wants to be with them. Potty training going well with no accidents in the crate or house.
Loves pig ears. I will send pictures soon.
Cathy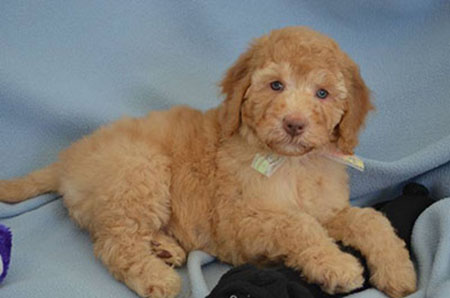 01-05-13 This is lovely Abby who is out of our Gabby and Evo's last litter. She arrived in Memphis on Christmas Eve to be Santa for John and Lisa's little son. She is a medium, curly fleece red apricot caramel girl!
From: John
Sent: Saturday, January 05, 2013 2:12 PM
To: Sherri Halvorson
Hey Sherri
Abby is doing great, very smart active and loving puppy. Fitting into our family quite well. Probably the best natured puppy we've ever had. Her temperament is also wonderful and she's always ready to learn and explore. She seems to be growing everyday or its the hair. Any idea how big she will be, hard to tell from her parents? Oh, we didn't receive her "family" tree or pedigree information. When you get a chance, can you forward or email that info to us? Thanks again for all you did to make Abby a member of our family and a wonderful pet to our home
John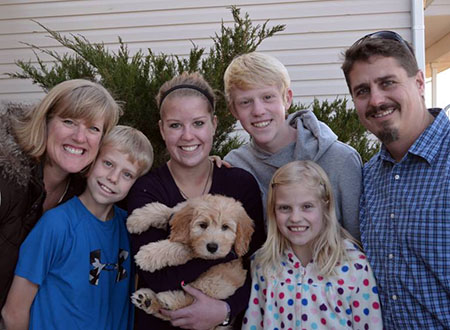 12-15-12 Apollo is out of Annie and Ozzie's current litter and Jackson was showing some reaction in their vehicle when they visited with him. The vehicle doors however were all open and the wind blowing across the eastern plains thru it as it so often does with all the allergens they carry so the family decided to take Apollo home the next week and this is their wonderful report with Jackson having no reactions to Apollo!!! :)
Merry Christmas!!!
From: Ruthann & Doug
Sent: Saturday, December 15, 2012 9:39 PM
To: Sherri Halvorson
Subject: Apollo
Greetings!
Well, we have had Apollo for a week now and wanted you to know we are all doing great! He rode home from your place very peacefully, slept some and just relaxed. He has done well throughout the week with his kennel, eating, and loving on the kids. He is doing well with the potty training, although we are all exhausted :-) ! I'm not sure who is training whom. Jackson has had no reactions, even though Apollo licks him and loves on him as well. We just feel so blessed and he has added so much to our family already.
Thank you for our wonderful puppy!
Doug, Ruthann, Kaity, Cody, Jackson, Julia and Apollo.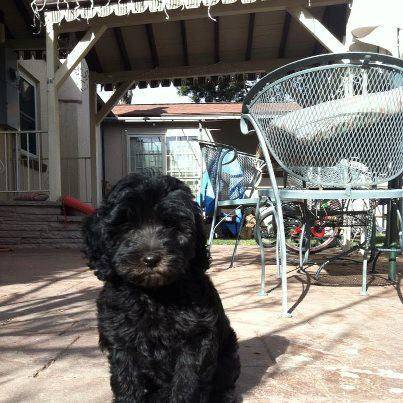 12-12-12 This is one of Ruthie and Abe's lovely babies from their 10/08/12 litter when she had been home for a week with her new family:
Beatrice is 9 weeks old and she's still doing great with her crate, she's sleeping 8.5 hrs already and goes potty outside like a champ. She knows her name, "come", "sit", and is working on "lay down." I am also very excited that she seems to automatically know how to fetch, I guess that's the retriever! I've never had a dog who didn't just want to play keep away with the ball, even when treats were used. She thrives on attention and is so eager to please. Honestly Sherri, we couldn't be happier with her.
Thank you!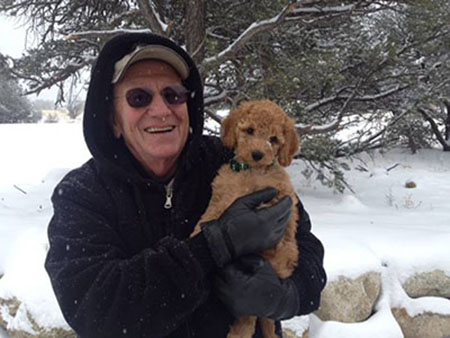 12-12-12 This is Ariel's Murphy adopted by a wonderful couple who drove here from Salida, Co to pick him up and then back home. He had not been in a car since he had his dew claws removed at 3 days of age, but did very well!
From: Jim
Sent: Thursday, December 13, 2012 6:15 PM
To: 'Sherri Halvorson'
Subject: Home safe and sound
Sherri and Roger,
All 3 of us are home safe and sound. Murphy was a Saint coming home, we stopped three times to let him drink and potty and he slept the rest of the time. When we got home he stuffed his food down like he hadn't eaten in weeks, what a sight. JJ From then on he was a wild man until about a half hour ago, sniffing, and checking everything out, not letting us out of his sight, what a BLAST. J J He is in his cage and completely zonked, what a beauty he is, you are right, he is the prized jewel, and we are lucky we have him. Thanks for all your help, will probably be a pain in the (you know where) but will keep you apprised of his progress. Sure would like to see the pictures you took of all of us, at your convenience. Be safe.
Jim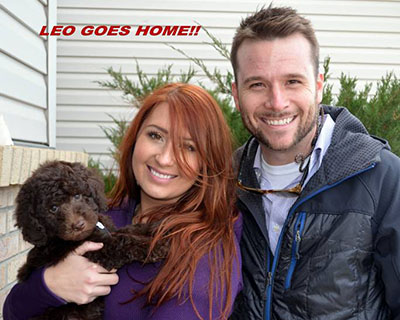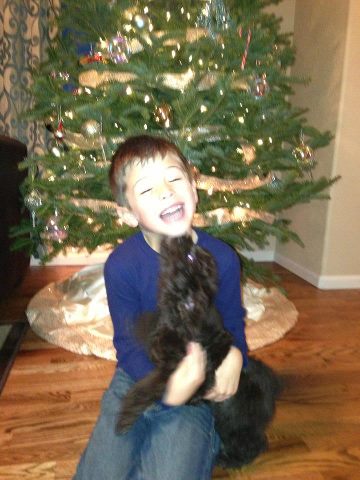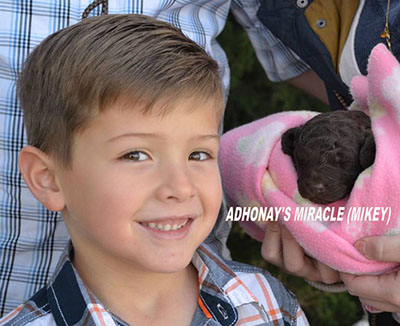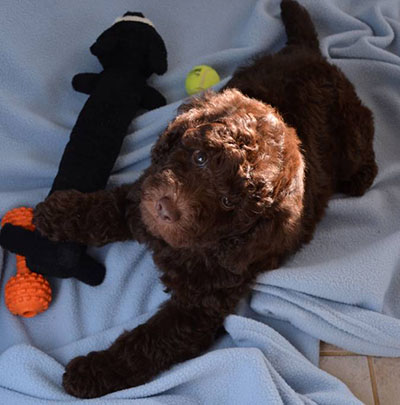 12-07-12 This is our little miracle baby who was a singleton (only 1 in the litter) from our sweet Rayna and Able minis. He was a "stuck puppy" at birth, but with the Lord's help AND we give the honor to YOU Lord, we were able to pull him out and really because he was in the birth canal so long, over ten minutes, we didn't have much hope that he would be alive! when I laid him on the blanket he began to wiggle and Rog and I both broke into tears so we named him our Adhonay's Miracle and called him Mikey, but of course his family has chosen their special name for him now and it is Leo! We were fortunate that Ariel's litter was born 3 days later and when Leo was 2 weeks old we put him with Ariel and began weaning him from Rayna so that he would have socialization of a litter to grow with. Thank you for our baby! First night with Leo is going great!!
12-10-12 This is our gorgeous black girl out of Annie and Ozzie's current litter whose mom flew here to pick her up and took her back in cabin to Phoenix!
From: Shelley
Sent: Monday, December 10, 2012 2:25 PM
To: Sherri Halvorson
Hi Sherri,
I wanted to let you know that "Sophie" and I had a safe and uneventful trip to Arizona. She sat on the chair next to me in the airport with her whelping blanket and pig's ear. She had many admirers.
My husband and boys were thrilled to see her. She had some visitors as well. My oldest said everyone had to come and pay homage to her :) she had so much fun outside.
I will send a couple of more pictures.
Thank you for everything.
Shelley
From: Shelley
Sent: Tuesday, December 18, 2012 5:21 PM
To: Sherri Halvorson
Subject: Re: Sophie
Hi Sherri,
Sophie is doing very well. She sleeps in her crate next to our bed at night. She sleeps right through the night (starting on the third night) until about 6. We're working on the house training. She has lots of toys and loves our back yard. When she gets wound up she flies like a bullet around the yard. She's getting a heavy dose of socialization. She's had a bath and did great with that. I hosted our store's holiday party last Sat night. She met lots of people. Plus there has been a parade of my boys' (and my husband and mine) friends coming to see her. We have lots of parties at our house so we definitely want her to be used to being around a lot of people. Plus she will be coming to the store with me. I took her for her well vet visit Friday (she weighs 9 pounds) - I think I was supposed to let you know that I did that. I'm planning on taking more pictures this weekend so will forward you a couple.
Shelley
Available Puppies | Older Puppies | Puppy Application
Pricing | Dams | Studs | Training
Planned Litters | Testimonials | Breeders For Sale
Retired Breeding dogs | Guardian Home Dogs