PUPPY TIPS
HOW TO LICK A BOWL: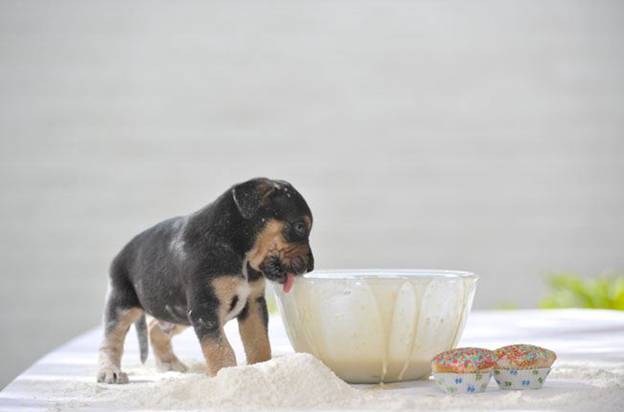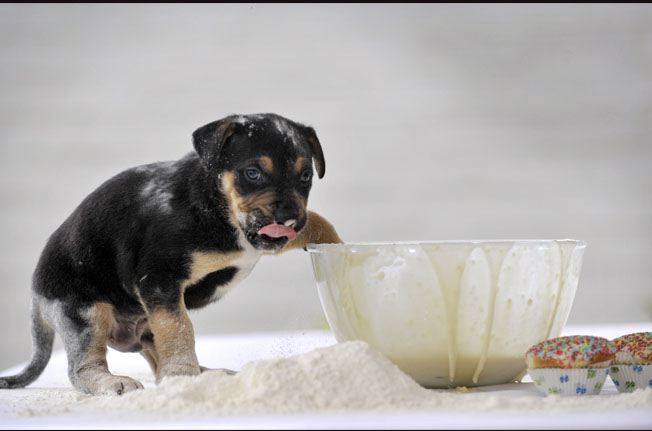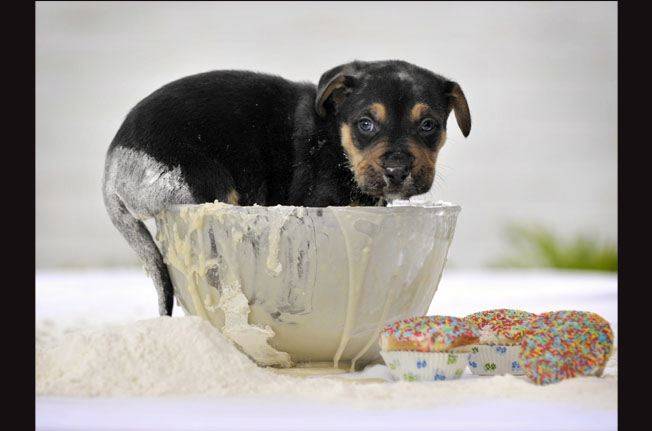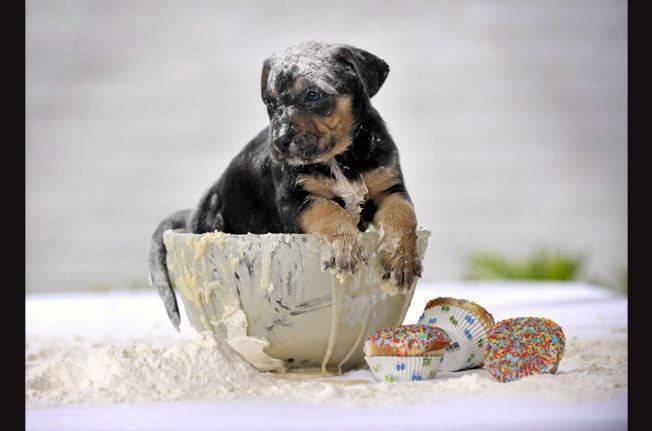 AND WATCH CALEB'S STORY ON YOUTUBE

YOUR LABRADOODLE CAN HELP WITH THIS!!! CHECK IT OUT!!!
BOOKS WE RECOMMEND AND LINKS FOR ONLINE PURCHASE:
PUPPY MOUTHING #1 ISSUE FOR MOST NEW PUPPY FAMILIES!!!
The mouthing is always an issue with this age as that is all they know from their littermates when they leave us. As time passes and their teething needs diminish it just stops by itself, but coming up to that and not being bloody all the time is important.
Roger's method is for an adult (children may be to rough or gentle and you need the right quick pull for this to work) to sit down on the floor with the puppy and immediately when he puts his teeth on him take your index finger and thumb and grab the loose skin on the back of the neck and give a firm quick up and down jerk
and using as high pitched a tone as possible yell "ouch" or "Awck" to startle him. Three times usually stops it for the time. Whenever he is mouthing use the "scruff shake" this is not to hurt the puppy of course and you don't lift him off the ground, it's ok if he gives a little yipe when you do it. Usually the yipe is because he doesn't want to be interfered with. Sometimes the puppy will go away and soon enough will
return to play but should behave better each episode.
I feel that when the puppy is really bad about this mouthing that the Bitter Apple (we have tried the Yuk brand and some others but Bitter Apple always
seems to work best) will work very well too and helps puppy to be redirected to something more appropriate to put into his mouth like a small toy or a small ball
appropriate in size not so he could swallow it. You squirt a very small amount (it does contain alcohol so you don't want to use much in the mouth) into his mouth
and squirt it all over your hands, up the arms and ankles and legs and they will stop mouthing. You can then play and pet them more comfortably. Again you just want one small squirt into the mouth and you need to do that so he gets a good taste of it, the reason people say that those products don't work is because they don't get enough in their mouth usually from whatever it was sprayed on to cause them distaste.
Along with that as you can teach sit and and other obedience commands (like "spin right" and "spin left" ) then you can start interacting to expend his energies
more so that when you do want to sit down with him he will be calmer and quieter. Please remember when he is mouthing not to be lifting your hand up and away from
him as he will just keep following your hand, never play with his face with your hands always try to use a toy and try to get it into his mouth or retrieving it, not teasing him back and forth with it as this encourages the mouthing. It helps to make a fist with your hands if he is mouthing and use the Bitter Apple as if he can't get a part of your hand in his mouth he will probably turn to put something else in his mouth. His teeth and gums are in a pretty constant state of discomfort when he is this age and still has his baby teeth growing and then they will fall out between 3.5 to 4 months on the average and his adult teeth will be coming in and he will still be uncomfortable so lots of good things to chew on will help satisfy his need to chew and relieve the pain and discomfort. He doesn't necessarily just mouth there is a reason for it. They now have teething toys that you can put into the fridge to get them cold just like for babies. I haven't used them so take care that they don't come apart too easily
and stuff. Flexible Nylabone like the fish can be refrigerated to help soothe and attract his attention and there are other puppy age appropriate ones that can
be refrigerated too to help.
Take heart as this stage will actually pass fairly quickly and he will be onto becoming that wonderful companion that you want in this area.
If the above don't give you some relief please let me know and we will seek out some other manner of help for you. I also sometimes just put my hand around the muzzle and hold it GENTLY, but firmly, and say "no bite" to help him understand that I am in charge as I see the momma dogs do this a lot and I do mean a lot. That is one of the
ways they teach them to stop nursing and being shark toothed around them.
I so hope this is helpful to you .
PUPPY TRAINING
Young puppy has a short attention spans and is easily distracted.
Two facts that can make training very frustrating. Get your puppy's
attention by making eye contact with them just before you give a command.
Decide what you're going to do to make them look up. You might want to
say their name in a firm, clear tone; use a clicker or give a quick whistle.
Consistency is key, so once you find a method that works, stick with it.
PUPPY BEDTIME
So you bought a crate, or kennel, but now you don't know
how to get your puppy inside. It's really not that difficult.
Simply bribe your dog. which means, train your dog with
food at mealtime. Before you put the food bowl down,
take a small handful of dog food and toss one piece at a
time into the kennel, then as your puppy goes in to eat
the food say, "kennel up!" (Or whatever phrase you want
him to learn. But keep it short and make sure it's not a
commonly used phrase your dog will hear others
saying at random.) If dog food isn't enticing enough,
try using his or her favorite treat. Soon your new pal will
be running inside whenever you give the command.
PUPPY HOUSETRAINING DONT'S
-Do not reprimand your puppy for mistakes. Reprimand has no place in housetraining.
-Do not leave food and water out all day and night for your puppy to eat
and drink at whim. Use some common sense here. Obviously if the
weather is hot, it is appropriate to give the pup access to water, but if this
is the case, then you need to be more alert to the possibility of the pup
needing to urinate more frequently.
-Do not allow your pup to eliminate anywhere other than his toilet area.
-Do not give your puppy free unattended run of your house
WARNING:
If you are an owner of a dog that belongs to a 'dangerous breed' category
And you also have a small child please take this as a warning.
Don't leave Your dog with the child unattended under any circumstances.
Only a moment was enough for the following to happen. See the photo: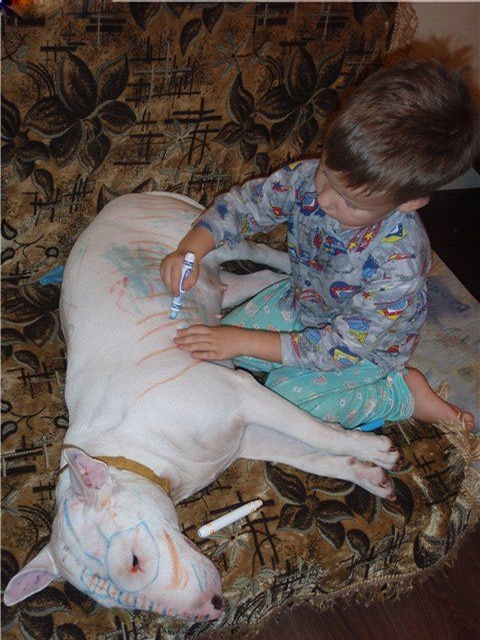 "The true sign of intelligence is not knowledge, but imagination."
Albert Einstein
WHICH DOG IS GUILTY?: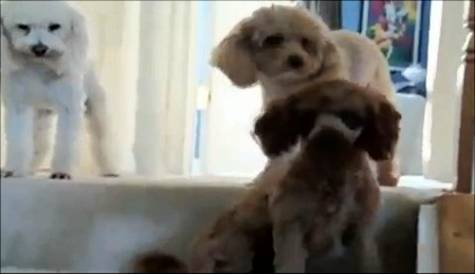 MERENGUE DANCING DOG--CARRIE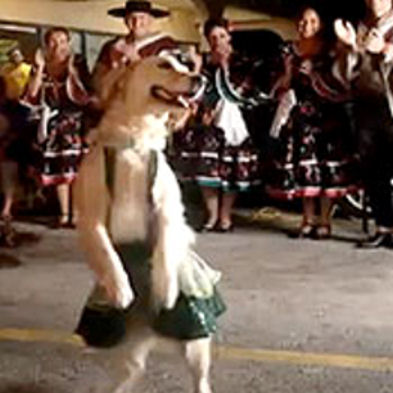 Available Puppies | Older Puppies | Puppy Application
Pricing | Dams | Studs | Training
Planned Litters | Testimonials | Breeders For Sale
Retired Breeding Dogs | Guardian Home Dogs